Here are some of my favorite things I thought you might like too.
Jump to: Recommended Links | Recommended Podcasts | Recommended Reading | Eeyore Photos
Recommended Links
SMNetwork.org – To me, this is hands-down the best online resource for stage managers, with YEARS of discussions. I've officially been a member since 2003, and I know it was around before that. If you have a question about stage management of any kind, I recommend you visit this site, and use the search function.Megawatch Calculator – If you're a stage manager with a PC, download this now! Created for Equity stage managers, it counts down your 5 and 10 minute break options, along with two stopwatches. Unfortunately, it's only available on that one platform. (FREE). UPDATE: As of November 2018, there is now a web-based version. Additionally, there is a web-based
flash version of the original as well (which has a much more pleasing look) by going to http://www.willpickens.com and then clicking on the pocket watch.
Stage Manager Stopwatch (app) – If I can't have Megawatch on my iPhone, this is what I'm using for now. You can adapt the default two-act structure to add as many acts or intervals as you like. The latter can be used for intermissions, tunings, bows, etc., you just can't change the label. You can also add a show stop if needed.
Stage Managers' Association – I've been a board member several times in the past (I'm currently filling out someone else's term), but especially enjoy hosting local gatherings of stage managers both in Denver when I'm home and as I travel around the country. I also enjoy taking part in Operation Observation (whether as a host or observer), where stage managers allow others to take a peek into their productions.
Actors' Equity Association – While many of the individual contract codes are now password-protected behind the Member Portal, the public can still download many items from the Document Library, including the paperwork stage managers (ideally) receive for the first day of rehearsal, as well as guidelines for Guest Artist and Special Appearance Contracts, Safe and Sanitary Guidelines, the Equity Membership Candidacy (EMC) program and more. If you're an AEA SM, be sure to join the "unofficial Facebook group" for some of the best (civilized) discussions on the internet.
Roadside America (link and also an app) – If you're traveling around the country, it's worth the price of the app to find fun, quirky places to stretch your legs…and take a photo with a favorite travel partner in crime.
---
Recommended Podcasts
One of the best ways to learn about our business is by talking to those who have experienced it. By listening to podcasts, you can gain the next-best experience!
Twins Talk Theatre – Twins Cynthia Hennon Marino (Stage Manager) and Stacy Hennon Stone (Technical Director/Production Manager) interview numerous peers throughout the theatre and opera worlds. As one of the two is a stage manager, in addition to many one-on-one discussions with other stage managers, you usually get a stage manager's view of whatever is being discussed. Several friends of mine have been interviewed, and it's fun to hear stories I've never known before.
Central City Opera – I worked in the Education & Community Engagement department of this company for almost a decade, so this podcast by my former co-worker Emily Murdock is a bit near and dear to my heart. Episodes are focused on each Summer Festival (so primarily are issued in the weeks leading-up and throughout the summer), and interview the various professionals on and off stage.
Silk Flowers and Papier Mache Hearts – This is a podcast hosted by two prop artisans – Ashley Flowers and Eric Hart…and yes, it took me quite some time to note the connection to the podcast title! I highly recommend the podcast for props people, but as a stage manager, there are many episodes I have found useful. I coordinate the Portfolio Reviews & Interview Materials Prep (PRIMP) sessions for the USITT conference, and their discussions on resumes and cover letters and portfolios are both filled with good advice on how to present yourself for job interviews, regardless of the area of focus. I also enjoy listening to interviews with my prop friends.
Stage Managers' Association – In the Members-only section, you can peruse several podcasts series, including Women of Broadway (focusing on females who have children), as well as the Legacy Project/Standing in the Dark (interviews with prominent stage managers, including Del Hughes Award winners). For non-Members, there are often two episodes available on the home page, in a rotation of availability. Note, these have been uploaded as videos, so must be "viewed" online, not through a podcast app.
Archiving Technical Theater History – The title says it all. The podcast is available in multiple platforms, and there is also a Facebook group for discussion.
APM: Performance Today Piano Puzzler – If you work in classical music, you'll likely enjoy this short weekly podcast. Each week Bruce Adolphe re-writes a familiar tune in the style of a classical composer. Listeners try to do two things: name the hidden tune, and name the composer whose style Bruce is mimicking. I'm usually very good at guessing the hidden tune, and I'm getting to know my composer styles better. Meanwhile, most classical music listeners are the opposite, and can name which classical piece has been used first, as it usually has direct quotes from a classical piece or two as well.
---
Recommended Reading
Books
The Stage Manager's Toolkit by Laurie Kincman – This is currently my favorite textbook-style publication for stage management. Laurie and I co-lead a USITT panel on stage management paperwork, and it's filled with great examples and discussion. Do keep in mind there is no one way to do stage management….but Laurie gives you some great pointers.
The Production Manager's Toolkit by Cary Gillett and Jay Sheehan – My co-horts from USITT's Stage Management Mentor Project collaborated on this book, as they didn't have a textbook they liked for their own classes.
Treading the Boards – Formerly published as the Regional & Off-Broadway Theatre Guide & Summer Theatre Guide, this isn't a page-turner, but is a theatrical directory of known professional companies. It's helpful to look up potential employers with full contact information, listed upcoming season, which union contract they use if applicable, and other pertinent facts. It's published twice a year.
Whatever production you're working on next! – Read it through once just to get the feeling, and try to turn off most of your analytical side. Go through later times for production needs, preliminary tracking, etc. Be as prepared for that first rehearsal as you can be!
Blogs
Stage Direction's Stage Manager Kit – Check out some of the writings of my dear friend David McGraw.
Stage Direction's Stage Management History Blog – Jennifer Leigh Sears Scheier shares what she has learned about our craft's history over the years.
Q2Q Comics – Morty may not be the best stage manager, but sometimes she says what you WISH you could say. I will often post these on the callboard. I also own one of the original sketches (this one) and helped fund the publication of his first two books.
---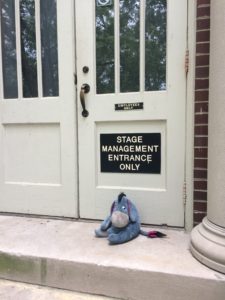 Eeyore's Photos
Yes, if you know me…I do think there should be some pictures from Eeyore's travels. Coming soon.