During the COVID-19 pandemic, Erin became the unofficial "voice of Colorado's unemployed," and for a brief time was included in staff meetings for the Colorado Department of Labor and Employment, as a "claimant advocate" volunteer. Having navigated unemployment systems in multiple states between jobs for years, Erin had already published one blog post pre-pandemic about how to file unemployment as a theatre person who doesn't fit government boxes well, and also guest lectured on the subject as part of the business side of being in the profession. Once she became a moderator of a popular Colorado unemployment Facebook group, she was sought out for interviews with several Denver area radio, tv, and print news organizations. Additionally, in the book Off Headset: Essays on Stage Management Work, Life, and Career (publish date January 2022), one of the two chapters Erin contributed is titled "Unemployment: The Other Side of Being a Freelance Stage Manager." See the "Navigating Unemployment" tag for more blog posts on the subject.
Current tallies are: 10 quotes for the Colorado Sun (not counting generic mentions that "The Facebook moderators request you scroll for previous posts", etc), 4 interviews for 9 News/Next with Kyle Clark, 4 for Colorado Public Radio, 4 with the Denver Post (including one feature on the three moderators), 2 on CBS4 Denver
These are the interviews/articles Erin's found online so far….
(And if someone can show me how to make this a page of expandable rows, so that you just see Date – Title – Publication first, but could click to open more – showing my quotes specifically, not just linking to the whole article – let me know. I've tried a couple plugins and can't figure it out. – Erin)
January 3, 2021 – Colorado's unemployment system slammed after email about jobless benefits is erroneously sent to many who are ineligible (Tamara Chuang, Colorado Sun)
The timing of programs ending and restarting plus the state's computer upgrade led to mass confusion on Sunday, said Erin Joy Swank, who recently began moderating a private Facebook group of 4,300 unemployed Coloradans. She just wanted clarity from state officials that out-of-work Coloradans will still be eligible for the new federal benefits. "There's a double tragedy here that the new system has to be implemented with new guidelines but the new system must add the new (federal jobless) extensions but people can't get in," Swank said.
January 4, 2021 – Colorado's Unemployment System Is Updating This Week – But First It Has To Go Offline. Here's What To Do With Your Benefits (Andrew Kenney, Colorado Public Radio)
The inadvertent messages sowed confusion among self-help groups for unemployed people. People on PUA rushed to file their requests, only to be rebuffed or encounter technical errors.
"It was panic, confusion and panic," said Erin Joy Swank, an administrator for a Facebook group. The group's membership increased by about 500 people on Saturday night, a 20-percent spike that Swank attributes to confusion over the email.
CDLE has since sent out multiple clarifying emails. Swank said that by Monday afternoon the department had delivered a better explanation. Still, she worried that many people would be surprised when the system went dark on Tuesday, resulting in delayed benefit payments.
January 4, 2021 – Coloradans who qualify for federal unemployment extension benefits are in limbo (Katie Eastman, 9News) – Erin was in contact with the station about this issue but not quoted directly.
January 12, 2021 – Launch of Colorado's new unemployment system bumpy, but 43K able to request payments; Resetting password, especially for Yahoo and AOL email account users, problematic (Joe Rubino and Noelle Phillips, Denver Post)
"Ultimately, it's headed in a good direction," said Erin Joy Swank, an unemployed stage manager who moderates a Facebook page about Colorado's unemployment system. "But, ooof, getting there …" She laughed before she finished the sentence.
….
Swank, who moderates the Facebook page, recommends people watch the videos because some of the functions are not intuitive. The new system, once fully running, should be better because people who are out of work can file claims weekly. And they can go back into the system to fix some user errors without having to rely on someone answering a phone at a call center.
"I know it needed to be done," Swank said. "The timing absolutely sucked."
January 13, 2021 – 2-Month Wait For A 5-Min Fix: Wait Times Remain An Achilles' Heel Of Colorado's Unemployment (Andrew Kenney, Colorado Public Radio)
Erin Joy Swank is a moderator of a Facebook group where unemployed people help each other with their UI troubles. Its membership grows by hundreds of people each time another problem surfaces, she said.
The group "has expanded increasingly, just since Thanksgiving," she said. Now numbering about 5,000, it has even seen reports of two deaths by suicide of people struggling with benefits, although CPR News could not confirm those accounts.
"Everybody's hurting. My life is to help people communicate and know what's going on," Swank said.
….
Sometimes, notices from the department are hard for claimants to understand. O'Grady received a letter that listed not one but three different reasons she might have been rejected from an extended benefits program. In her desperation, she eventually opened three separate claims – likely making her case even more difficult to resolve.
"Write like a real person and not legalese," Swank said. "People do not understand the notice of decisions that they get. People don't like to read. They don't like to research."January 17, 2021 – For Coloradans getting by on federal unemployment benefits, the wait for them to restart is agonizing
State labor department hasn't restarted PUA as it installs new computer programs, fraud protection (Noelle Phillips, Denver Post)
Meanwhile, Quintana and thousands of other out-of-work Coloradans chat on Facebook forums about their benefits and how to navigate the complicated system. They also help out each other when someone is in crisis, which is what happened last week when a man posted that he was contemplating suicide because he wasn't able to get money through the unemployment system and life had become too hard.
The group's participants were able to get police to his home and connect him with other resources, said Erin Joy Swank, one of the moderators.
"It was a very emotional day," she said.
January 22, 2021 – Colorado will roll out $300 federal jobless benefit next week as unemployment rate jumps to 8.4% (Tamara Chuang, Colorado Sun)
"So. Much. Frustration," texted Erin Joy Swank, one of the moderators of a private Facebook group for unemployed Coloradans. "People (are) getting angrier, more desperate and we now have more than 6,100 in the group."
The group had about 2,500 members in early December.
January 30, 2021 – What's Working: What happened after the Colorado Dept. of Labor emailed 230,000 people that federal benefits were restarting (Tamara Chuang, Colorado Sun)
The latest development is reports from people who are now getting their 1099 tax forms that show way more income for 2020 than their calculations of unemployment benefits. I'm no expert but Erin Joy Swank, who voluntarily helps moderate a private Facebook group for unemployed Coloradans, knows all about this. She's had a mix of income for years and been on/off unemployment when seasonal jobs aren't available.
People need to count all the benefits, says Swank, and that includes the $600 weekly payments last summer, the $300 Lost Wages Assistance payments, the $375 "Polis stimulus," plus any payments from 2019 that weren't paid until 2020.
She explains this and other tax issues at "Taxes and Unemployment – Is My 1099 Correct?"
February 9, 2021 – Coloradans turn to strangers for help with messy unemployment system (Marshall Zelinger, 9News – Next with Kyle Clark) – VIDEO AVAILABLE
"It's a full-time job, I often log at least eight hours a day," said Erin Joy Swank, moderator of a Facebook group entitled: "Colorado Unemployment/PEUC/PUA (Pandemic Unemployment Assistance) Q&A."
"We're doing the communicating because CDLE isn't," said Swank.
….
One of the questions recently asked in the Facebook group dealt with verifying your identity on the unemployment portal. Swank described how one user helped another navigate the new system.
"Those little things are success stories, I don't care. They may not have got the money yet, but they wouldn't have known exactly how to do it if it wasn't for our group," said Swank.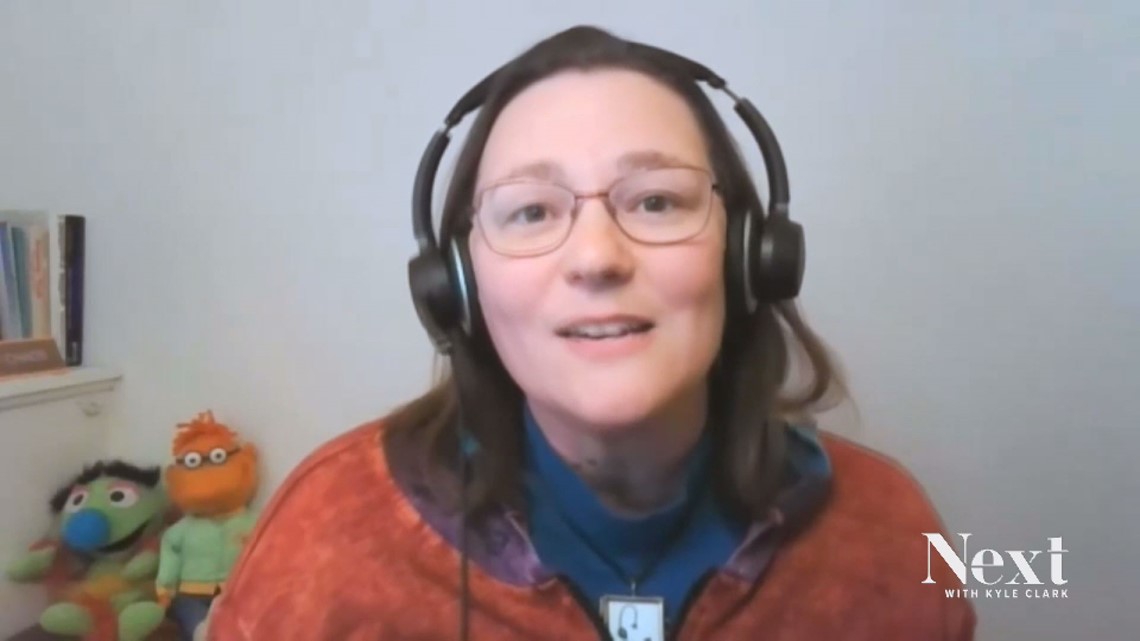 Credit: 9NEWS Erin Joy Swank, moderator of a Facebook group entitled: "Colorado Unemployment/PEUC/PUA (Pandemic Unemployment Assistance) Q&A."
The posts are usually about someone's struggle with the unemployment system. A recent post was simply about someone's struggle.
"I don't know how close they were coming to it, but someone said suicide is the only answer, and I was personally involved in getting that person help," said Swank. "They have lots of people checking in on them and they thanked everybody for their concern."
February 13, 2021 – What's Working: As exhausted Coloradans on unemployment wait for benefits, the next federal plan must pass soon to avoid delays (Tamara Chuang, Colorado Sun)
Behind the scenes, a lot was happening this past week. For one, I heard from Erin Joy Swank, one of the moderators of the volunteer-run Facebook group for the unemployed. She met with Chase and Joe Barela, the executive director of the Department of Labor. They reached out to her!
"Long overdue, but several things they were quite surprised about. They really seemed to listen and brainstorm together," Swank said in an email.
Her update is posted in the Facebook group.
February 14, 2021 – Published online and in print: Frustrations with Colorado's unemployment insurance still mounting following debut of new system; Legislature calls for report to assess the state labor department's performance in the pandemic (Noelle Phillips, Denver Post)
For Erin Joy Swank, a moderator in the Facebook group Colorado Unemployment/PEUC/PUA Q&A, everything boils down to a breakdown in communication between the labor department and the hundreds of thousands of people filing for benefits.
"If they would communicate, the anger would go away," Swank said.
Instead, emails are sporadic, language on claims forms is bureaucratic, FAQs are hard to find on the labor department website, and it's next to impossible to get someone to answer when dialing a call center for help. On top of those problems, the labor department in January mailed 1099-Gs with an incorrect Taxpayer Identification Number and then scrambled to get corrected tax forms to those who collected unemployment benefits in 2020.
The disconnect between what labor department officials say during weekly press calls and what people are experiencing is huge, Swank said.
"We've had such great success. We've had so many calls," Swank said, repeating what labor officials say. "Well, how many dropped calls are there? How many people are being told we can't help you?"
But there is hope for improvement.
On Wednesday, Barela and four other labor department executives met with Swank and Brittany Dreiling, a protest organizer and leader of another Facebook group, to discuss ways to better communicate. Swank posted a summary to her group and expressed overall satisfaction with the promises that were made. of me in my home office
February 22, 2021 – Coloradans Turn To Facebook As State's Unemployment Software Improves (Jeff Todd, CBS4 Denver) – VIDEO AVAILABLE
"Really the whole point of the Facebook group is crowd sourcing because no one of us has the answer. We're only doing what we know," said Erin Joy Swank, a moderator for a Facebook group called Colorado Unemployment/PEUC/PUA Q&A. "I just try and help people as I can."
Swank has a history of dealing with unemployment claims in Colorado and other states and had written blog posts about navigating the system. The stage manager hasn't worked a show in more than a year and decided to put her knowledge of unemployment to good use.
At the beginning of the year, she became one of several moderators for the group.
Since phase two of the MyUI+ system went online Saturday morning, CDLE says 130,000 people have opened claims and been paid $206 million. Many people on the Facebook group credit its existence for helping them get their claim processed.
"I do see progress. It's slow. It's not as fast as anyone would like. There's definitely still some issues and of course if it's your personal issue everyone panics. I do think a lot of the chatter is going down on our website. A lot of people are getting paid. It's getting there, but there's still some big, big issues going on," Swank said.
Swank says it's a group effort to help others.
"Luckily more people are getting though, but there are a heck of a lot of questions still going on," she said.
February 22, 2021 – He Pawned His Wedding Ring Because Colorado Unemployment Benefits Were Delayed. He Can Finally Go Get It Back (Andrew Kenney, Colorado Public Radio)
Recent improvements to Colorado's unemployment filing system
In the last few days, the problems have seemed to ease somewhat, said Erin Joy Swank, who helps to manage a Facebook group for people with unemployment issues.
"If it's your personal glitch, it's still a gigantic, enormous glitch, but I do feel like there are less people with glitches," she said. Labor department officials have said that they will be able to address more glitches and problems now that Phase 2 is deployed.
But new frustrations are still cropping up. The state's new anti-fraud defenses are flagging many accounts for potential fraudulent activity. Those holds can generally only be cleared if people verify their identity with the private software platform ID.me. Swank said that some members of her group have reported long waits for service, though others have succeeded.
February 23, 2021 –135,000 unemployed Coloradans get benefits after months of waiting. But thousands of others face glitches and denials. (Tamara Chuang, Colorado Sun)
Maybe more people should just follow the lead of Erin Joy Swank, who in December became one of the reluctant volunteer moderators of a private Facebook group where unemployed Coloradans trade battle stories about getting paid.
When Phase 2 reopened, she requested just one week's worth of payments. "I did one test week for each – myself and my husband and we received payment this morning," she texted. "Huzzah!"
Swank, who's been on unemployment so long that she had to file a new claim in February, had long ago used up her regular benefits, and then the federal Pandemic Emergency Unemployment Compensation and also State Extended Benefits until they abruptly stopped Nov. 28. As a moderator of the group, which nearly quadrupled in size since December to almost 8,000 members, she's seen the panic, the woes, the frustration and anger. But she also honed in on what works and how problems were resolved.
"I've read about enough glitches that take time to fix, and if a fix is made going forward, sometimes it seems harder to get the retroactive ones corrected," said Swank, whose status is now PEUC2. "I'm happy to report that funds were in my bank this morning. Another moderator did one a day after each appeared safely in her bank account."
February 25, 2021 – Who do you call about your problems with CDLE's out-of-state call center? (Marshall Zelinger, 9News – Next with Kyle Clark) – VIDEO AVAILABLE
"We have little faith in the call center right now," said Erin Joy Swank, moderator of the Colorado Unemployment Facebook page, where members help each other with unemployment questions.
"We get more answers, a lot of times, in our own group," said Swank.
….
The CDLE unemployment website has also added a complaint form to report issues with the call center.
"That is directly out of the meeting that we had, between myself and the moderator of the other Facebook group (with CDLE)," said Swank. "Many times they are hung up on. Today, there's people getting dead air and they don't know whether to stay on or not, and most of the time after the dead air they do, still, get hung up on."
The form to report call center issues has a drop-down for just two issues, but neither are great: "While speaking with an agent, the agent hung up on me" or "Unprofessional agent."
"I think the unprofessional part has gone down, but we're certainly still getting the hang-ups, but now we have a way to report it," said Swank.
February 26, 2021 – Here Are The Issues Still Blocking Colorado Unemployment Benefits – And The Timeline For Fixes (Andrew Kenney, Colorado Public Radio)
A new approach for communications
"I think there is so little communication. People think they may be the only one having (an issue)," said Erin Joy Swank, who manages a mutual aid Facebook group for some 8,000 people facing unemployment issues in Colorado issue.
Often, Swank sees the same questions and glitches posted dozens of times per day on Facebook, because there has been no central source of information, until now.
The new dashboard won't necessarily get those problems resolved any quicker, but Swank thinks it will help people understand what's happening – and help them hold CDLE accountable for fixes.
"It's annoying" to face glitches, she said, "but at least you know they're trying."
….
The dashboard also offers daily metrics on the state's unemployment call centers.
For example, on Feb. 25, the average wait time at the "live" call center was 73 minutes, and the appointment-based center completed about 1,100 callbacks. But Swank suspects the wait time figure isn't an accurate representation of people's experience; she's heard countless reports of people's calls being dropped after more than an hour on hold. The new dashboard features a button to report issues with the call center.
March 10, 2021 – Colorado unemployment office expects "no gap" in payments after Congress passes new relief plan (Tamara Chuang, Colorado Sun)
The news was welcomed by a large group of out-of-work Coloradans who trade tales of their unemployment issues in a private Facebook group.
"It's great that CDLE is being proactive about getting word out about the third stimulus on the same day it passed in Congress," said Erin Joy Swank, one of the volunteer moderators of the group. "However, they still need better communication for those with pending issues …  including giving the correct (information) to call center reps. Hopefully all of this will be fixed in the next few weeks as they've been saying."August 11, 2021 – Colorado unemployment benefits going away September 6 (Katie Eastman, 9News) – VIDEO AVAILABLE
When the peak of the pandemic forced hundreds of thousands of Coloradans to apply for unemployment benefits, Erin Joy Swank helped to crowdsource the confusion.
She filed for Pandemic Emergency Unemployment Compensation, one of the federal programs that extended state benefits, when her job as a stage manager of live events ended.
As a moderator of a Colorado Unemployment Facebook group, she helps interpret the Colorado Department of Labor and Employment's (CDLE) guidelines for state and federal benefits.
"Right now one of the biggest questions is 'what happens come September 4 or September 6?', depending on what date you look at," she said. "September 6th is the federal wording, but in Colorado it's for the week ending Saturday, September 4."
August 20, 2021 – At least 87,000 Coloradans will lose all pandemic unemployment benefits in two weeks (Tamara Chuang, Colorado Sun)
"Many people are still not believing it will end," Erin Joy Swank, a moderator of a private Facebook group for unemployed workers, said Friday. "They are clinging to Biden's words yesterday about encouraging states to use rescue funds to extend benefits."
Colorado's unemployment rate declined from 6.2% in June from 6.1% in July, which was among the 15 highest rates in the nation. The U.S. unemployment rate was 5.9% in July.
State labor officials did not indicate plans to extend benefits in Colorado.
"And many are confused because they still have a balance and are not understanding the expiration date," Swank added.
August 21, 2021 – What's Working: It's a worker's labor market in Colorado as wages rise (Tamara Chuang, Colorado Sun)
As Labor Day creeps closer, unemployed workers in Colorado are probably already mourning the coming loss of federal benefits on Sept. 4.
Some don't want to believe it's happening, Erin Joy Swank said Friday. She's one of the moderators of the private Facebook group for unemployed Coloradans that has been tirelessly trying to steer people for more than a year to the answers they seek about unemployment benefits.
"It's still pretty active," Swank said. " We're hanging in there with really only two of us moderating."
Swank shares more in another story published Friday. In it, the Colorado Department of Labor and Employment offered updates on the 116,000 people who will lose benefits, including the $300 weekly bonus. Read it at "At least 87,000 Coloradans will lose all pandemic unemployment benefits in two weeks."
September 23, 2021 – Some PUA claimants asked to provide documents or risk receiving overpayment notice (Katie Eastman, 9News) – VIDEO AVAILABLE
Erin Joy Swank, an administrator of the Colorado Unemployment Facebook group, said there is a lot of confusion based on the recent comments.
Swank has written a blog to help people navigate the questions they have about unemployment benefits.
"If you got the questionnaire, you do need to fill it out and say what your 1099 wages were," said Swank. "Basically there's a list online that says 'PUA documentation required' and they walk you through all the different things you can do."
Swank suggests uploading the documents online so they aren't lost in the mail.
September 25, 2021 – What's Working: The Colorado disconnect continues between employers and the unemployed (Tamara Chuang, Colorado Sun)
SOMEONE WHO KNOWS: Erin Joy Swank, a moderator of a private Facebook page where unemployed Coloradans help one another, adds her own tips on navigating the overpayment: Fill out the 90-day questionnaire! >> READ
October 2, 2021 – What's Working: Need a job? Tech companies are hiring in Colorado as a pre-pandemic labor crunch continues (Tamara Chuang, Colorado Sun)
Gary, who said he just learned he must pay back $18,000 in benefits, had ignored all of CDLE's messages, including the "PUA – 90-day – Claimant Questionnaire" (read Erin Joy Swank's tips on dealing with that message). He said they wouldn't open. I told him to check whether he's blocking pop-ups.
December 7, 2021 – After Audit Reveals More Colorado Unemployment System Fraud, Some People 'Still Fighting' For Payments (Karen Morfitt, CBS4 Denver) – VIDEO AVAILABLE
According to the report, CDLE saw more than 1,000% increase in claims during the first year of the pandemic, and while it likely contributed to some of the issues, the audit shows there were no procedures in place for responding to claimant concerns.
"Some people are still fighting," Erin Joy Swank said.
Swank was among those trying to navigate the system from the beginning and now uses her experience to help thousands of others – many who struggled to get the assistance they needed from the Colorado Department of Labor and Employment.
"People weren't getting paid and sometimes they were told they needed to pay it back some people spent months trying to get that fraud released," Swank said.
….
The report says of the complaints they were able to find, between the call center and an online form, 82% of them were not resolved.
Swank says for those who need help fast, it adds to an already lengthy process.
"It seems to take weeks, months, even a new standard non-fraud related claim is taking 6 to 8 weeks. If you have any issue on top of that it's even longer," she said.
December 26, 2021 – Published feature online and in print on me and other moderators: They spent hours moderating a Facebook group to help people navigate the frustrations of Colorado's unaemployment system; Volunteers stepped up to help Coloradans as they navigated state's complicated and flawed system (Noelle Phillips, Denver Post)